Über uns
Chromosom Film was founded in 2006 by Alexander Wadouh and is based in Berlin.
We focus on developing and producing national and international fiction and documentary films with a political attitude and zeitgeist. The great success of Jan-Ole Gerster's OH BOY (6x German Film Award Winner) and the enormous international festival feedback for Noaz Deshe's WHITE SHADOW and Gabrielle Brady's ISLAND OF THE HUNGRY GHOSTS pave the way for courageous films with a strong own voice and attitude.
Our ambition is to tell stories that touch the audience on a deeper level, reaching beyond the screen. We are convinced that the medium film can be an effective contributor to social discourses and needs to steadily reinvent itself as an art form.
Together with our team and our partners, we value long-term collaborations on eye level.
The individual idea of ??each film creates unique needs. Our passion is to invent a tailor-made way for each one of them. Looking at financing and production, as well as on distribution, we therefore work together with traditional partners, while at the same time being open to alternative, creative and new paths.
Alexander Wadouh
Since 1999 he has been working in the film industry within a variety of production areas. He completed his studies in film production at the dffb in 2006. Between then and 2009 he worked for the production company Essential Film GmbH on numerous international art- house movies, as well as for the French World Sales Coproduction Office. In 2006 he founded his own film production company Chromosom Film to develop and produce national and international projects for all distribution channels. All of his films have won awards around the world (six German Film Prizes, a European Film Award, a Bronze Lion, etc.) and were shown and are still been shown in cinemas worldwide.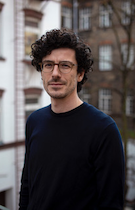 Julia Niethammer
Julia is a Producer for Chromosom Film. After two years of traveling Julia studied Media Science, Anthropology and Cultural Science at Marburg University.
She gathered her first experiences in film production at the Flying Moon Filmproduktion in Berlin. In the following two years she worked on several film projects as Production Assistant and 1st AD. Since 2012 Julia is part of Chromosom Film.
She has a passion for documentary and hybrid films. Therefor, she works on enriching the companies portfolio with films like the awardwinning ISLAND OF THE HUNGRY GHOSTS.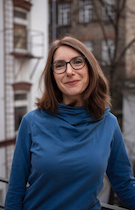 Roxana Richters
Roxana is a Producer at Chromosom Film. She studied Film- and Dramastudies at the Freie Universität Berlin and the Trinity College Dublin, as well as Film producing at the German Film- and Television Academy Berlin (dffb) and the Columbia University New York. During her studies, she worked for the production company UFA FICTION. In 2015, she received the Scholarship by the "Verwertungsgesellschaft der Film- und Fernsehproduzenten".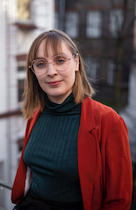 Anna Werner
Anna Werner arbeitet für die Chromosom Film als Producerin an dem Projekt Stille Post. Nach einem Studium der Internationalen Beziehungen, das sie 2015 mit dem Bachelor abschloss, begann Anna im Herbst 2016 ihr Produktionsstudium an der Deutschen Film und Fernseh Akademie Berlin (dffb). Zwischenzeitlich absolvierte sie Praktika im ARD Auslandsstudio in New York sowie bei Arte France Cinema in der Filmförderung.